This session aims to take participants through logical, step by step ways in understanding and using Facebook and Twitter to promote their businesses and build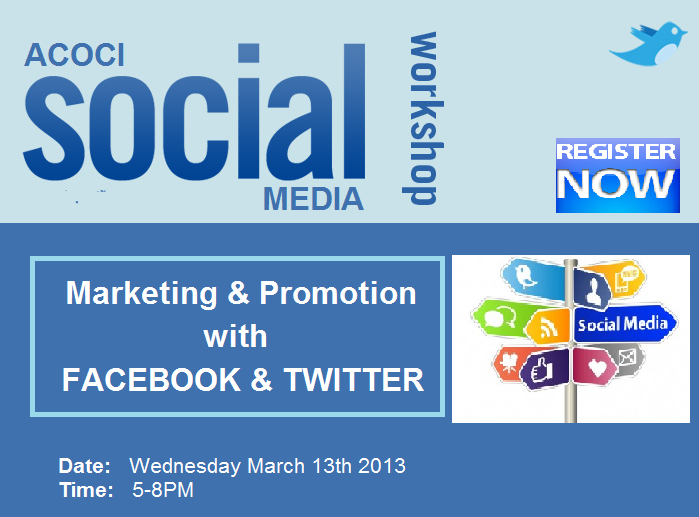 effective networks. The workshop targets CEO's, marketing managers marketing staff, entrepreneurs and executive professionals who would like to understand and harness the power of social media in promoting their ideas, products and services. Participants will be equipped with a social media marketing plan and will benefit from knowing ways to promote their products using various social media tools and services.
Using a combination of presentations, online demonstrations, discussions and practical activities participants will at the end of the workshop series:
have a social media marketing plan for their business;
have a broad understanding of social media marketing;
create social media assets using Twitter profiles and channels, and Facebook pages during the session;
have the confidence to choose and use a range of social media marketing tools appropriately and effectively.
be able to measure the results of their social media marketing efforts using Web analytics.
Facebook session
There are over 955 million users (June 2012) on Facebook! This session shows how companies can tap into the power of crowd sourcing to attract customers to their business. Session focuses on how to create customised Facebook pages that harnesses the power of Facebook.
What will you learn?
How to develop effective Facebook Profiles
How to use Facebook as a low cost marketing promotion tool.
How to develop a winning Facebook Fan page.
Best practices from real case studies of successful Facebook marketing.
How to integrate social pluggins as effective tools for promotions.
Twitter session
With over 200 million users Twitter provides a powerful mobile social network to promote products and services on the Internet as well as keeping followers and customers up to date. At 140 characters a tweet, Twitter provides a powerful marketing tool that individuals and companies use to build their online presence. Used carefully twitter, can also help build valuable relationships with the target markets. This session shows various ways which companies can use Twitter to engage consumers in various ways (customer care, sales promotion, and selling). The session will also present a number of applications, tools and mobile devices that aid twitter users to broadcast, track, update and monitor streams of data.
What will you learn?
How to create a clear set of objectives to allocate defined resources
How to analyse followers, tweets, retweets and twitter clout.
How to use twitter to drive traffic to websites
Ways of enraging customers through online competitions polls
How to choose the right third-party twitter tools and applications.
COST:$50.00 USD
VENUE: Chamber Training Room
  REGISTER BELOW: